An excellent article by the Real Estate Institute of Australia research officer Evgeniya Hawthorne.
The topic of foreign investors, particularly Chinese investors, pricing out Australian buyers has recently received a lot of media coverage, prompting a Government inquiry to examine whether foreign investment in real estate is being administered properly by the Foreign Investment Review Board (FIRB).
REIA made a submission to the Standing Committee on Economics Inquiry into Australia's Foreign Investment Policy as it Applies to Residential Real Estate. REIA's submission attempts to analyse whether foreign investment is directly increasing new housing supply (the objective of Australia's foreign investment policy, as it applies to residential property, is to increase the supply of new housing) and also whether the administration and compliance of Australia's foreign investment policy relating to residential property can be enhanced.
Despite the market's subdued conditions from mid 2010 through to the end of 2012, the Australian housing market, assisted by a strong Australian dollar, remained a safe haven for overseas investors.
The FIRB annual report shows that the real estate sector was the largest destination by value with approvals in 2012-13 of $51.9 billion, of which $17.2 billion was in residential real estate. Considering that in FY2012-13, there was $94.6 billion invested in housing, REIA estimates that 15%-20% of investor demand is coming from overseas. The three largest source countries of proposed investment in real estate by value are China, Canada and the US, accounting for 11.4%, 9.5% and 8.5% respectively of all approvals.
Analysis of the FIRB publication revealed the market segments of existing dwellings and vacant land are in a price category well beyond median prices and are not likely to compete against "average" first home buyers, while new dwellings and off-the-plan purchasers appear to be in a price category higher than the median for units.
Figure 1 below shows the state distribution of non-residents' investment properties is focussed on the eastern seaboard.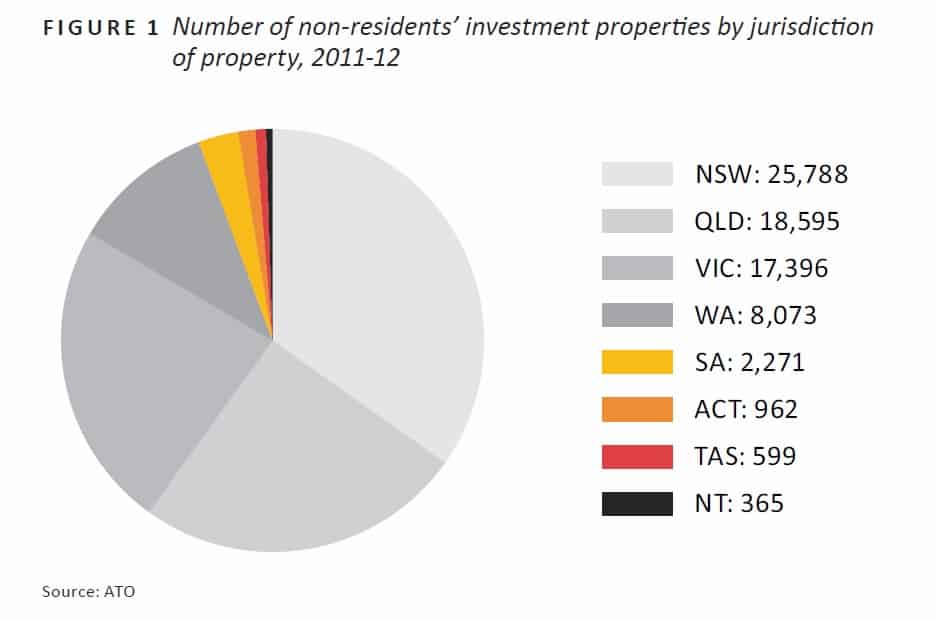 Victoria, New South Wales and Queensland account for 34%, 32% and 11% respectively of all approvals of proposed investment in residential real estate by value.
A clear relationship between the level of foreign investment approvals and building activity and thus supply of new dwellings has been found
in New South Wales, Victoria and Queensland (figures 2-4 below) prompting a conclusion that the FIRB Guidelines of increasing the supply of housing are being met.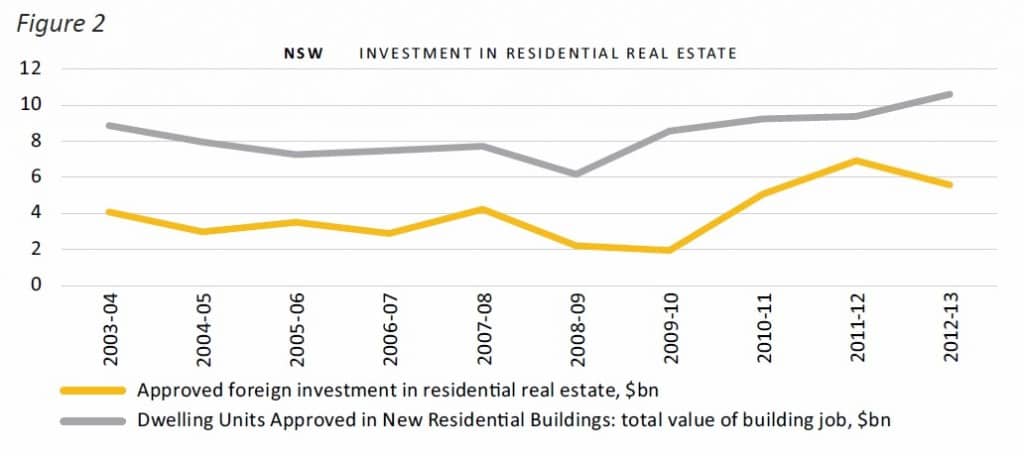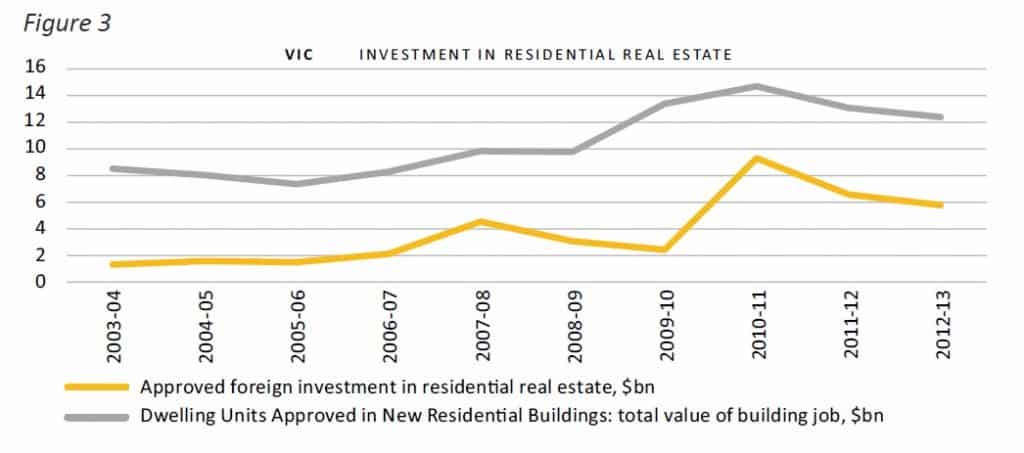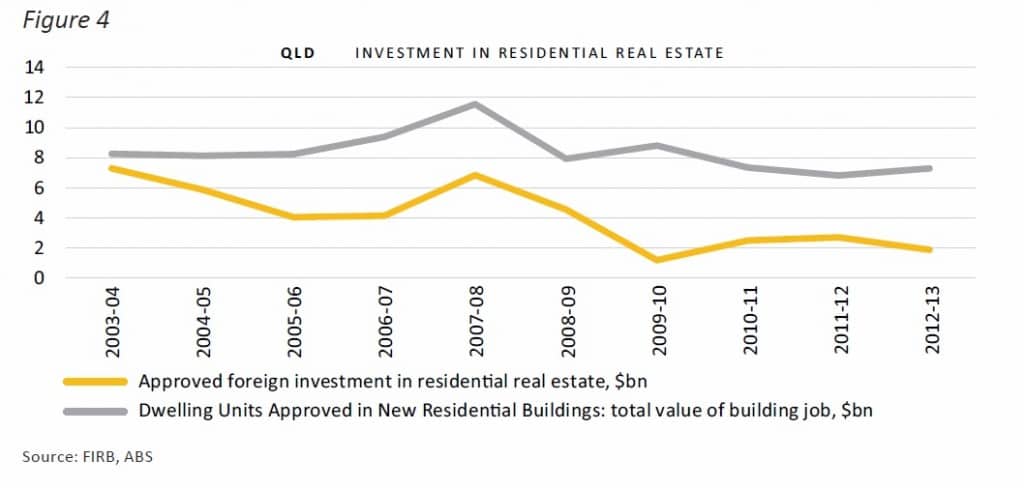 For these states, the level of foreign investment as a proportion of the value of dwelling stock, whilst much higher than the Australian average, is still at a level where the ability of foreign investors to influence the market is negligible – 0.33% in NSW, 0.48% in Victoria and 0.24% in Queensland in 2012-13.
REIA does not see a need for the policy relating to foreign investment in residential real estate to change. Foreign investment has been found to increase supply of new housing while a competition between an "average" first home buyer and foreign investor is unlikely.
However, the REIA submission recommends that the level of FIRB data made publicly available and its timeliness be reviewed; that the powers of enforcement, the penalties and the compliance and monitoring activities of the FIRB introduced in 2010 be independently reviewed as to their effectiveness and appropriateness; and that the penalties applicable under the Foreign Acquisitions and Takeovers Act are reviewed with consideration being given to an ad valorem rate and that this rate is set at 10%.
The REIA submission can be found here.
Temporary Residents
• Must notify FIRB of any proposed acquisition of residential real estate;
• Can buy one established dwelling only to live in and must sell the property when it ceases to be their residence;
• Cannot buy established dwellings as investment properties;
• May buy new dwellings or vacant land to build new dwellings.
Foreign Non-Residents
• Must notify FIRB of any proposed acquisition of residential real estate;
• Can invest in Australian real estate only by acquiring new dwellings, off-the-plan properties under construction or yet to be built, or vacant land for development;
• Cannot buy established dwellings as investment properties or as homes
This article is brought to you by REIA Research Officer, Evgeniya Hawthorne.
Evgeniya can be contacted at evgeniya.hawthorne@reia.com.au