The Federal Government makes housing data available via the website  https://www.housingdata.gov.au/
The site is very user friendly and provides a wealth of detailed information.
By using the menu

you can find a whole range of information. For example ;
– a wealth of Statistical information on Homelessness across the country.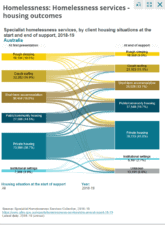 – the number of building approvals in the Mount Barker SA Council Area Jan 2019 – Dec 2019 was 491